We Need You!
If you have willingness to help people and a desire for a new and exciting challenge then take the next step.
Become a volunteer firefighter.
Montgomery County Fire/EMS is a combination department consisting of career and volunteer firefighters operating out of 3 staffed and 4 unstaffed stations in Montgomery County. We cover an area of approximately 200 square miles and respond to all types of emergencies. Our staff is dedicated in ensuring that not only are they trained to handle any type of situation placed before them, but also in the task of preventing emergencies prior to them occurring through community education and numerous fire prevention programs.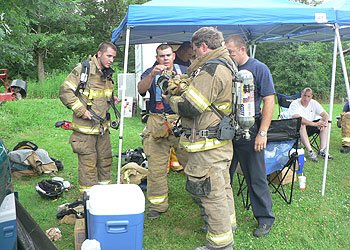 Minimum Qualifications
Must be a U.S. citizen
Must be at least 18 years of age
Must be a resident of Montgomery County
Must be able to possess a Ky. Drivers License
Must have a good attitude and a willingness to learn
Applicant will be required to successfully pass written exam and physical agility test
Applicant will be required to undergo a formal background check
For more information on becoming a volunteer firefighter call us at (859) 498-1318